I had never heard of this product until I was looking in Boots at the different beauty products and saw this little pot and was intrigued. It was £1.29 a tub of 110ml, so I thought I would give it a try for that price. It said on the label softens and conditions hands and skin.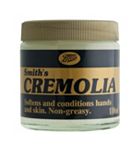 When I opened the tub it is a funny consistency and can only describe it as a cross between a gel, serum and cream. I used it as a hand cream and couldn't believe how quickly it soaked into the skin and left no residue at all. My hands felt really soft after using it. It smells a bit odd and can't place the smell but would say it is similar to a hospital.
It is great to use on your feet and elbow and leaves your feet super smooth. I have read it is great for sensitive skin too and a lot of people use it on their children.
I will be keeping a jar of this on my desk at work, as sometime I find with normal hand creams they can take a little time to sink in but with this it is super quick at sinking in and your skin drinks it up.
You will also have people asking you what it is when they see the jar as it looks like it has come from the 60's